A Whole Bunch of 2020 Aviators and Explorers Have Been Recalled to Find A Handful With a Dangerous Driveshaft Defect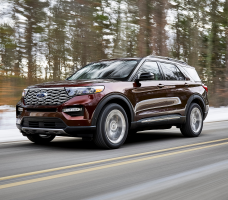 Ford needs to repair 18 driveshafts that they believe have fractures along the weld seams. Only trouble is they'll have to recall a heck of a lot of vehicles to find them. The affected vehicles are all 2020 Lincoln Aviators and Ford Explorers built in Chicago between 08/24/2019 and 09/30/2019. That's roughly 12,200 vehicles.
So while less than 1% will actually have the problem, it's imperative that all affected owners bring their SUVs in for inspection.
A defective driveshaft is no joke. At best you might suddenly find yourself unable to accelerate while driving. Or you might watch as your vehicle rolls away after parking. And then there's the chance your car could go BOOM after the deformed driveshaft ruptures the fuel tank.
The reference number for this recall is 20S65. If you believe you have one of these SUVs you should call Lincoln/Ford at 866-436-7332.
More information on
carcomplaints.com
Related Lincoln Generations
At least one model year in these 1 generations have a relationship to this story.

We track this because a generation is just a group of model years where very little changes from year-to-year. Chances are owners throughout these generation will want to know about this news. Click on a generation for more information.